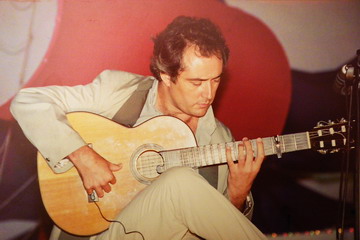 Jean Avy. Festival in Alouchta.Ukraine, 2002.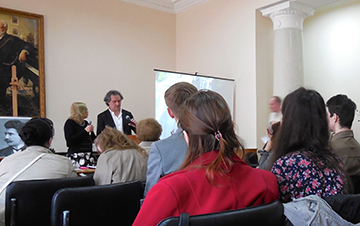 Jean AVY's intervation during the conference at the Tchaikovsky Music Academy in Kyiv, April 28, 2015
Member of the SACEM (the society for the protection of copyright rights of composers) since 1987, I write music for guitar, harp, bandura and chamber music (for violin and cello).
My musical compositions were performed in France, Sweden, Spain, Poland, Ukraine.
On March 18, 2011, in Epone (78), France, during the opening of the exhibition string trio played my composition "Vidala".
On January 28, 2012 at the cultural and information center of the Ukrainian Embassy in Paris, during the opening of my exhibition "Eternal Kyiv" my milonga "40 Novembers" for bandura was played.
On April 29, 2014 at the cultural and information center of the Ukrainian Embassy in Paris during the plastico-musical evening "At the intersection of Music and Painting", guitarist Ukrainian Marko Topchii interpreted my suite for guitar "Land of Ukraine" (composed in 2013).
On April 21, 2015 in Kyiv Taras Shevchenko National Museum, during the inauguration of the Franco-Ukrainian project "With Ukraine in the heart", organized by the Presidential Foundation Leonid Kuchma "Ukraine ", musicians supported by the Foundation interpreted my compositions for guitar, bandoura and string trio around my paintings.
On the occasion of my conference at Petro Tchaikovsky National Music Academy of Ukraine (Kiev Conservatory), April 28, 2015, I defined the components of contemporary French music in connection with the Ukrainian current creation. To support of my words the Academy's students played two of my recent musical compositions for solo violin and string trio.